Fresh Mozzarella
We make this cheese every morning. Semi soft with a great milky flavor, if you have never had a fresh mozzarella you don't know what you are missing.
Luizzi Angeloni Scamorza
Scamorza is a Cow's milk cheese that is more common in the south of Italy than the north. It is a stretched curd cheese where the curd is allowed to sit in its own whey for several hours. This process allows the cheese to become a little more acidic as the lactose converts to lactic acid. The traditional pear shape comes from the drying process where the cheese is hung. It is very similar to mozzarella and can be substituted freely.
Ambrosi Scamorza Affumatica
Here we have another Scamorza that is traditionally smoked. The smoky flavor adds a nice twist to Eggplant Parmigiana or try it as a grilled cheese with some Pancetta.
Caciocavallo
This is another stretched curd cheese made from either Cow's milk. Mainly produced in the south of Italy the cheese's name means horseback cheese. It comes from the fact that two balls are tied together with rope and then hung over a beam to age. The resultant cheese has some sharp and spicy flavors that accompany a glass of primitivo wonderfully.
Stella Fontinella
Fontinella is a Cow's milk cheese that is made in the USA. It is a new cheese having only been developed 10 years ago. Semi-soft with a wax rind and has a nice creamy nature and sharp tangy flavor. Good on crackers or with fruit and nuts. It also melts well in Panini's.
Auricchio Provolone
Provolone cheese was originally produced in the southern part of Italy, but now comes mainly from the North. It is a semi-hard cheese with a distinct sharp taste that comes from the production method as well as the aging.
Asiago Soft
There are two types of Asiago Cheese, both coming from the Asiago plateau in the Veneto region. The first is Asiago Pressato which is made from cow's milk and aged only slightly to produce a soft slightly tangy cheese. Asiago d'allevo has been aged for varying periods of time and has a crumbly texture with a sharp flavor. This cheese is the former.
Locateli Pecorino Romano
Pecorino Romano is one of the oldest recorded cheeses, dating back to Roman times. There are many Pecorino cheeses in Italy, but only one Pecorino Roman. It is a sheep's milk cheese that can only be produced in Lazio, Tuscany, or Sardinia between November and June. Strong and sharp in flavor and great for grating over pasta.
Piave
This cheese is named after the Piave River in the Veneto region. It is a dense hard cheese with a slightly sweet and nutty flavor. Good for grating over pasta or atop a salad.
Gran Soresina Parmigiano Reggiano
This cheese can only be made from the provinces of Parma, Reggio Emilia, Bologna, Modena, and Mantova. It is made with the evening's milk added to the naturally made skim milk from the mornings milking. It is aged at least 24 months to produce the sharp nutty and fruit flavors. This is a versatile cheese that is good on cheese plates, salads or grated on pastas.
Grana Padano
Grana Padano is very similar to Parmigiano except that it is made from partially skimmed milk. The flavor is a bit softer and less salty.
Under Ash Truffle
This cow's milk cheese comes to us from the Veneto region. The cheese is aged under a rind of ash to preserve the aromatics. The truffles are infused into the cheese giving a great earthy flavor profile.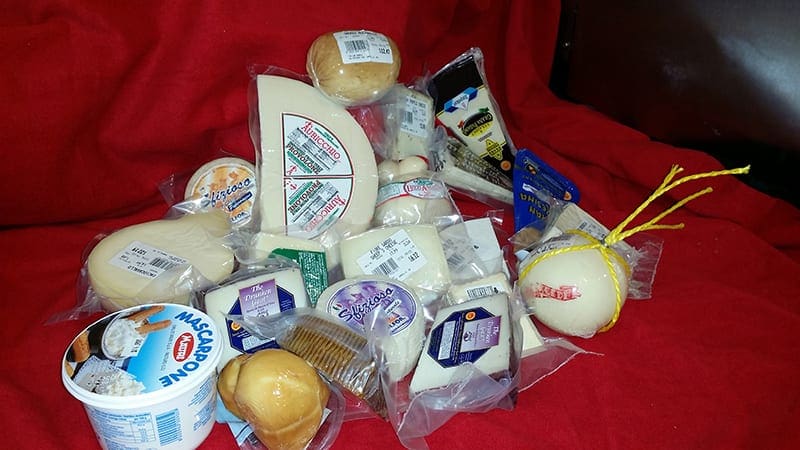 Vantia Ricotta Salata
This cheese comes to us from Southern Italy and is produced using Sheep's Milk. Ricotta Salata is made from fresh ricotta that has been pressed, salted and then aged for 90 days. The result is a creamy slightly salty cheese that is great in salads.
Bel Paese
Here we have a semi soft cow's milk cheese from the Lombardy region. It is aged 6 to 8 weeks to retain its fresh soft buttery flavors. The cheese airs wonderfully with fruit and light or medium bodied fruit forward wines.
Auricchio Stravecchio
Here is an interesting version of Provolone. The cheese is made from an old traditional recipe that requires very special aging conditions and over a year of actual aging. Good for melting or with fruit and salty meats.
Drunken Goat
Drunken Goat Cheese comes to us from Murcia, Spain. The cheese gets its distinctive purple wine from its 2-3 day soak in red wine. It is semi soft with a light sharp flavor with soft touch of red fruit from the wine.
Sfiziosa Primo Sale
This Sheep's milk cheese comes to us from Sicily. There are several flavors including Natural, Red Peppercorn, and Black Peppercorn.
Ricotta Pecorina
Pecorino is the term to denote a 100% sheep's milk cheese. Ricotta is a whey cheese, meaning that it is made from the left over whey after the curds are used to make other cheeses. The cheese is soft in body and in flavor. Good on salads and baked dishes.
Gorganzola Dolce
The "sweet one" is milder and softer than either the natural or Piccante version. This is the cheese to give to a person unsure of blue cheeses.
St Andre
St Andre is a triple cream cows milk cheese from the Normandy region of France. The cheese is dense with a buttery and nutty flavor. Try it with an IPA, Dark Belgian or Fruity Red.
Fiore Sardo
This is a Sardinian sheeps milk cheese that can only be made from the milk of local Sardinian breed of sheep. Six months of aging yield a cheese with a rich, salty tang and some light tropical fruit notes.
Fontina Fontal
Fontal is a lighter and less tangy version of Fontina. It melts really with a nutty and buttery flavor and a slight sweet aftertaste.
Fontinella
Fontinella is an American version of Fontina cheese. It is not as tangy as the original but keeps the ability to melt well, so it is great for sauces or grilled cheese sandwiches.
Crotonese
This sheep's milk cheese derives its name from the town of Crotone in Southern Italy. Like other pecorinos it has the distinctive tang of a sheep's milk cheese but with slightly sweeter taste and some citrus notes.